Scotty's Security
Our uniformed security personnel provide services for special events or on a continual basis in Maryland and West Virginia.
Our security staff is second to none and meets our stringent and rigorous standards of service and professionalism. Our service criteria includes:
Carefully screened backgrounds
History and quality of experience and education
Public Safety training
Licensing and screening by Maryland State Police
Preference for off-duty and retired police, corrections officers, and professional fire fighters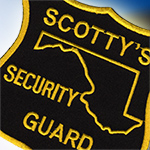 On Site Security
Full- and part-time on-site security guards for any situation on a full-time, temporary, or holiday basis.
Vehicle Patrol
Marked security vehicles provide a roving patrol for any setting. Our patrol vehicles are equipped with top-quality communications equipment allowing officers to have immediate contact with local law enforcement. Clients are also able to have direct contact with security officers on duty.
Courier Service
Scotty's personnel are also available for transporting sensitive items such as pharmacy supplies, medications, home health equipment, and much more. Courier operations are available 24/7--when needed most.
Armed Security Transport
Scotty's experienced security professionals are also able to transport items of a potentially volatile nature, such as cash, narcotics, and financial institution transactions. Rest assured--when your company needs the best for a high-stakes delivery, Scotty's is up to the task.
Civil Process Service
Scotty's Security will deliver and verify receipt of court papers to required parties. Scotty's will find and deliver. Period.
Repossessions
Our experienced professionals work effectively in the delicate situation of default on credit. We work to resolve situations through guidance and mediation. Taking custody of a vehicle is our last resort, and we supply a report of the details of the event.
When the pressure mounts to maintain the safety of property or individuals, let the experienced staff of Scotty's Security be your pillar of security. Call us today to find out more about how we can protect you.