Are You Really Who You
Say You Are?
Background Checks by
Scotty's Investigations
Our Fingerprinting Service is Back Online!: We are providing the fingerprinting service at a safe and secure location by appointment only.
The fingerprinting services location is 79 South Grant St., Frostburg, MD. Please call (301) 777-0232 to schedule. Weekend appointments available. See our rates below.
It's not something we're typically accustomed to being asked but times have changed and so has an employer's liability for those he or she employs. If you're being considered for a new job, need a background check, or your job requires you to be fingerprinted, Scotty's Investigations can help you through the process.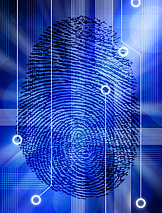 Now, there's no need to spend a day traveling back and forth for fingerprinting service. If you are a Maryland resident in Allegany or Garrett County, Scotty's Investigations is the only local independent contractor trained and certified to process fingerprints for submission to the State of Maryland's Criminal Justice Information System's Central Repository. And Scotty's convenient Cumberland location saves you hours of travel time and additional expense.
Many employers and volunteer agencies now require new employees and volunteers to obtain a criminal history check before starting work. In many cases employers are required to perform these background checks by law. Authorized non-criminal justice agencies and individuals may obtain criminal history record checks for employment and licensing purposes. Background checks are now required for many jobs and situations ranging from business and professional licensing to childcare, public safety and security, mortgage banking, adoptions, racing, elder care, educational, and recreational settings.
With Scotty's Investigations, you are assured of fast and accurate fingerprinting. The process is simple. Gone are the days of messy ink. Using digital technology and high-resolution scanning technology, Scotty's Investigations is well-equipped, trained, and certified to take your fingerprints and submit them to the Criminal Justice Information System in minutes. The chance of print rejection due to poor print quality is greatly reduced and, in most cases, your criminal history check is returned to your employer in as little as three to four days.
The State of Maryland estimates that 60% of fingerprint files submitted are delayed for processing due to poor print quality. Rejected fingerprints can be problematic for you because they:
Increase the amount of time required for your file to be processed by the Criminal Justice Information System Central Repository
Require you to make another trip to prepare and submit your fingerprint files
Increase the risk of losing employment opportunities due to a longer processing time
Don't risk your time, money, and a potential new job--Call Scotty's Investigations TODAY at 1-800-285-2992 to learn more about their fast, accurate, and convenient fingerprinting services.
Your time and future career are too important--
trust Scotty's Investigations.
Scotty's Livescan Fingerprinting Fees
Fees include State, FBI (where applicable) and fingerprint surcharge ($21.00). Maryland CJIS fee, where applicable is ($18.00).
| | |
| --- | --- |
| Child Care (Paid) | $ 51.00 |
| Child Care (Volunteer) | $ 49.75 |
| Adult Care | $ 39.00 |
| Attorney Client (Paid) | $ 39.00 |
| Visa | $ 39.00 |
| Adoption | $ 39.00 |
| Gov. Employment (State) | $ 39.00 |
| Gov. Employment (State & FBI) | $ 51.00 |
| Individual Review (State Only) | $ 39.00 |
| Private Employer | $ 39.00 |
Maryland State Police Licensing
| | |
| --- | --- |
| Handgun Permit (New) | $ 51.00 |
| Handgun Permit (Renewal) | $ 33.00 |
| Security Guard (New) | $ 51.00 |
| Security Guard (Renewal) | $ 33.00 |
| Firearms | $ 39.00 |
| Security Systems Tech | $ 51.00 |
| Private Detective | $ 51.00 |
| Special Police | $ 51.00 |